Repairs, Restorations, Tonal Adjustments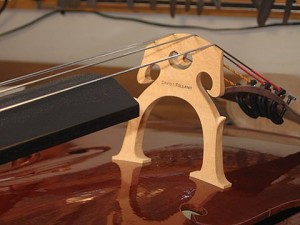 Having made over 200 instruments, won dozens of awards in international violinmaking competitions, and played the violin since childhood, I have developed the ability and expertise to do some of the finest tonal adjustments anywhere. I am able to hear what a player is describing when they have an issue with his or her violin. I do everything possible to get to the heart of the problem, not just knock the post around and hope for the best. This means looking closely and thinking deeply about every aspect of the set-up: the neck, fingerboard, nut, bridge, saddle soundpost, tailpiece, etc. When all of this is as it should be, then comes the playing and adjusting of the post. It is often helpful that I am able to play the instrument during this process, so that the owner can listen to hear what their instrument sounds like at a distance. Every player, no matter their ability or the quality of their instrument deserves good set-up and adjustment.
The same careful thought and deep experience goes into the repairs and restorations that I do. My goal is not to just restore the structural integrity of the instrument, but to end up with an instrument that sounds as good or better than it ever has.
Testimonials
"Unquestionably master violin maker David Folland is at the forefront of the world's makers and restorers. My 1760 Balestrieri cello was expertly restored to a superb condition both cosmetically and tonally and now possesses a bold richness, power and playability which I am experiencing for the very first time. Never has this instrument sounded this good."
Michael Lipman
Cellist, Pittsburgh Symphony Orchestra
"David Folland's meticulous restoration work and tonal adjustments have really brought my 1810 G.B. Ceruti to life. The instrument has never sounded better."
Dr. David Carter
Professor of Music – Cello, St. Olaf College
Bow work
We also have a great, award-winning bow maker living and working here in Northfield, Matthew Wehling. Matt does any necessary bow work and re-hairs, and bows can be dropped off for him and picked up again at my studio.